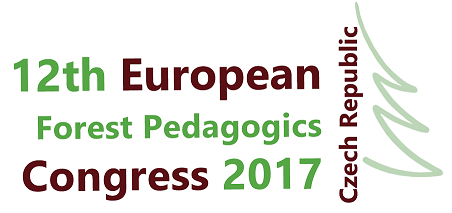 Forest pedagogics - adventures between communicating and educating
3. - 6. 10. 2017
Milovy, Orea Resort Devět Skal
12th European Forest Pedagogics Congress 2017 is hosted by Forest Management Institute, Czech Republic at a direction of Ministry of Agriculture of the Czech Republic. The congress will be held in Sněžné-Milovy, Czech Republic from 3-6 October 2017.
The congress is co-organised by the Working Group for Forest Pedagogy in Czech Republic. The continuity of the congress is guaranteed by Forest Communicators Network - Subgroup Forest Pedagogics, part of both the UNECE Timber Commitee on Forests and the Forest Industry and the FAO European Forestry Commission.
The European Forest Pedagogy Congress is organised annually to provide a platform for the exchange of experiences and for the discussion of currently relevant topics or challenges for forest pedagogy in Europe. The focus of this year's congress is on challenges and opportunities in forest pedagogy as both communication and environmental education and relations between them.
Congress Topics (from FCN-subgroup European Strategy on Forest Pedagogy)
A4 Forest owners, forest administration and forest enterprises are communicating about management of their forests through Forest Pedagogy activities.
B1 Forest Pedagogy is an educational process to reach environmental maturity and Forest Pedagogy is a prime example for ESD.
Steering Committee
Lenka Pondělíčková Levá, Zuzana Jankovská, Dirk Schmechel, Rolf Jucker, Rudolf Navrátil
About Organising Institution

The Forest Management Institute (FMI) is a government organization established by the Ministry of Agriculture of the Czech Republic. The scope of the institution is nationwide, headquartered in Brandýs nad Labem.
The biggest task of the Institute is implementing the National Forest Inventory (NFI), including field measurements and evaluation of results. The FMI maintains a central database with information about forests of the Czech Republic, forest management and hunting.
Besides other things the FMI is further an authorized person pursuant to the Act No. 226/2013 Coll. on placing timber and timber products on the market and according to the Act No. 149/2003 Coll., on the marketing of the forest reproductive material.

The FMI also ensures the coordination of working group on forest pedagogy in the Czech Republic, which has been established by the Ministry of Agriculture of the Czech Republic in 2007.